 Discover easy ways to stay motivated and committed–all the way to your goal!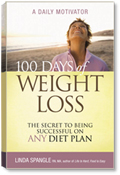 Discounted price and FREE shipping when you add
Life is Hard, Food is Easy
or
Friends with the Scale
click here
100 Days of Weight Loss
Solve your diet struggles in just two pages a day!
These simple, day-by-day lessons will keep you focused and committed to your weight-loss program for a minimum of 100 days. That's enough time to learn a new set of skills and change your weight loss pattern—forever!
This daily motivator works with ANY diet or maintenance plan to help you:
Stop emotional eating and get control over food
Stay motivated all the way to your goal
Learn instant tools that work in every food situation
Consistently get support from other people
Make sense of meal portions, food triggers, and more!
Maintain control and have you saying, "I CAN stay on my diet!"
Praise for 100 Days of Weight Loss
In the Media…
This fantastic weight-loss book is to the point, accessible and chock full of information you can put to work immediately!
–USABOOKNEWS.com
From Readers…
This book is great, no matter what diet program that you are on! The format makes it easy to stay motivated with a short, daily message. I am also a big fan of Linda Spangle's other book, Life is Hard, Food is Easy. Her style of writing is very easy to identify with, and her ideas about emotional eating are eye-opening!
–Elizabeth S.
Among Wellness Experts…
I have come to know Linda Spangle as an extraordinary emotional eating expert. She is a true genius at understanding how to get emotionally empowered.
–Jorge Cruise, author of The 3-Hour Diet
(Visited 3,787 times, 1 visits today)