It's SO easy to reach for food when you feel sad, lonely, stressed… even happy.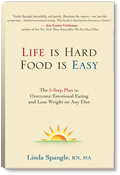 Discounted price and FREE shipping when you add
100 Days of Weight Loss
or
Friends with the Scale
click here
Start learning how to recognize and express your emotions instead of reaching for food. You CAN stop emotional eating.
Life is Hard, Food is Easy
Overcome emotional eating in just 5 easy steps!
This book will completely change the way you think about food, giving you a powerful strategy for conquering emotional eating and other barriers to your success. Learn:
Why you eat when you aren't hungry
How to get more control over food in your life
Ways to manage stress, anger or depression without using food
Simple steps to unlinking food and emotions
Get past barriers such as sabotage, perfectionism and guilt
Praise for Life is Hard, Food is Easy
In the Media…
This book will completely change the way people think about food, giving them much-needed tools for successfully losing weight.
–Jack Canfield, co-author
Chicken Soup for the Soul series
From Readers…
Why didn't someone tell me about this book 13 years ago? I bought this book 1 week ago… Over this weekend, I put down the chocolate, and I faced the emotions associated with my depression head-on. I felt really, really bad for about two days as I cried about my life, but TODAY, the black cloud that has hung over me for most of my adult life has finally lifted.
–Anonymous
Among Wellness Experts…
At last! A book that cuts through all the issues about the role of food in our lives and gets to the core of the problem of overeating. A terrific book for people who have struggled with their weight for years and have been unable to get it under control. Will change the lives of those who use food to cope with negative situations and will help them get their lives back. Highly recommended.
–John Foreyt, Ph.D., Director
Behavioral Medicine Research Center
Baylor College of Medicine
(Visited 1,980 times, 1 visits today)