Frustrated or discouraged? It's time to bring back energy, confidence and joy to your weight-loss plan!

Listen to this short message from me: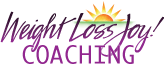 My one-on-one coaching will help you
reach your weight-loss goals as well as

Take Back Your Life!
In addition to wonderful changes to your weight and fitness level, coaching helps you find back joy as you revive your motivation, self-esteem and healthy life balance.
Coaching gives you…

Amazing ability to stay consistent with your program
Improved confidence and self-esteem
Personal tool box for dealing with emotional eating or lost motivation
Fresh skills for dealing with life challenges without reaching for food
Renewed trust that you will reach your goal and maintain your weight long-term
Each month, your coaching program will focus on a specific topic (such as motivation or emotional eating) and will include related worksheets, articles and audio lessons.
Click here for a list of topics as well as details on my coaching style.
Sign up today!
Take Back Your Life Plan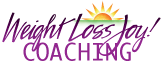 In addition to ongoing support and accountability, these coaching visits will help you work on issues such as emotional eating, self-esteem, and motivation.
• Includes 3 to 4 one-hour visits per month (36 visits per year)
• Cost: $275/month, automatically charged each month
• You are welcome to continue this program for as long as you wish.
• No long-term commitment—you can stop the program at any time.
One-Time Visit…
If you don't want the cost of an ongoing coaching program, but need help with getting started or troubleshooting your weight-loss efforts, sign up for a one-time coaching visit.
• Cost: $100 for a one-hour visit
• Focus is entirely on your specific questions and concerns
• Find answers and solutions that fit your personal needs
Not sure about coaching?
Contact me to set up a FREE 15-minute telephone visit to help you decide if the coaching program is a good match for your needs.
(Visited 2,932 times, 3 visits today)