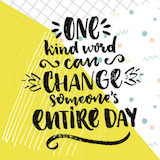 If you're like me, there are lots of days when you yearn for a little kindness or encouragement. When it comes, your day immediately gets a little better.
As many of you know, over the past few weeks, I've been dealing with my heart issues of Atrial fibrillation (A-fib.) Last Thursday, I was scheduled to have a procedure (ablation) to fix it, but it didn't happen. Here's why–my doctor said some kind words.
I was already at the hospital cath lab, ready to go, when he came in and sat down. "Based on all your tests, I want to offer you a couple of options, he said. "One is that we move forward in a few minutes with the procedure, which I think will fix the problem.
But because of your history, you'll need to stay on your current medications for now. Those meds are working great right now and I think that will continue. So another option is that we skip the procedure today, and simply have you continue on those same meds long-term. I think there's a good chance that will keep the atrial fib from ever returning."
I was stunned. Mentally, I was all ready to go to sleep and have the procedure. But decided I liked the second option better. So I left the hospital and went out for breakfast with my husband. I'm feeling great these days, and I'm confident it was the right choice.
Kind words are a gift
Over the past weeks, I've been amazed at how much kind words helped me. Friends wrote wonderful email notes saying they were thinking of me and praying for me. And they celebrated for me when they knew I was doing fine. Receiving those kind words meant a lot.
But it also reminded me how important it is to share kind words with others. When I do that, it actually makes me feel better too. It doesn't take a lot of effort to do this. So I've been trying to hand out kinds words every chance I get.
I've given them to my coffee shop waitress who has an unplanned pregnancy. I've shared them with my friend who feels burned out by her work as a family therapist, but knows she can't quit work right now. And I've given them to my caring pastor who visits ill or elderly people to share kindness with them. Just one kind phrase, a warm smile, or even a hug can shift your own day as much as someone else's.
Sometimes, we can learn from watching others do this. Here's an amazing example of how words can change everything.
Blind man video
I know this doesn't help you lose weight. But the interesting thing is that when you reach out and care about someone else, your own struggles don't seem as important. And that helps you stop using food to make them go away.
Kindness helps heal
During all the sadness and natural disasters we've recently had in the U.S., I've seen many stories and photos of people reaching out in kindness. It doesn't take away the loss from the shootings or huge fires or the floods, but it gives people a little sunshine on a really bad day.
I've set a goal for myself to give kind words or a smile to at least five people today. I can do this through an email or phone call so I don't even need to leave home. But when I go to the bank later today, I plan to share several warm smiles as well.
I don't expect this to fix my cookie cravings, but I know it will brighten my day. And in the long run, that might be all it takes to help me win against the cookies.
(Visited 27 times, 1 visits today)