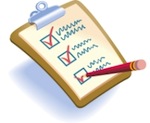 I encourage all dieters to make a list of reasons WHY you want to reach and maintain your goal weight.
To help you get started, here is my own personal list.
10 reasons WHY I want to reach and maintain my goal weight:
• Wear cuter clothes
• Fit in smaller size jeans
• Have a flatter stomach
• Feel younger and better about myself
• Be comfortable in a bathing suit
• Feel more sexy
• Be a role model for my clients
• Feel inspired to dress better
• Prevent health problems
• Feel strong and confident
I dug deep and came up with 10 more reasons:
• Make clothes shopping easier
• Keep blood pressure down
• Improve my breathing and my fitness level
• Play tennis easier
• Have more energy
• Get back to a strong exercise routine
• Use my own experiences as examples
• Decrease risk of breast cancer reoccurrence
• Be more prepared for retirement
• Have less pain in feet and legs.
Be sure to write your own list, and keep it where you can review it often. Any time you struggle with motivation, go back and read your list again.
Because all of your reasons are VERY important, your list will help you stay strong and committed to your program.
(Visited 95 times, 1 visits today)