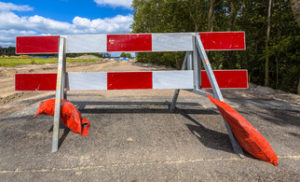 Key # 5 – Kick the roadblocks
Think about what gets in your way when you are working on losing weight. What might keep you from success?
Is it related to people, energy, money? When you've struggled with this in the past, what caused you to slip up or kept you from making progress?
Identify everything you can think of. Write them all down.
If you're brave, make a copy of the page you just wrote, then crumple the paper into a ball and kick it around the room for a few minutes. Picture every one of the roadblocks as being gone.
You can also type your list on the computer, then delete the roadblocks one at time. Cheer each time one goes away.
Key # 6 – Line up a support system
It really helps if you have someone who cares about you and your efforts to reach your goals. Get a buddy, hire a cheerleader, enlist your family members.
Perhaps you could treat this like a fundraiser event and ask people to be "sponsors" for your challenge. Even your children (or your neighbor's children) can do this for you.
You might even consider doing coaching work with me. I'll help you feel very supported as well as challenged and encouraged all along the journey.
www.weightlossjoy.com/coaching
Key # 7 – Learn and grow forever
Boosting motivation today is only the beginning. For the months ahead, plan all the ways you could continue with your personal growth.
Maybe you could read more books, take yoga or Pilates classes, or hire a life coach or a personal trainer.
Make a list of at least three things you will plan to do as part of your ongoing learning and personal growth.
Note: Click here to read the first 4 keys to motivation.

Today, be sure to sign up for the free e-book, How to Revive Motivation.
Click www.weightlossjoy.com/ and put your name and email into the purple box at the top of the page.
(Visited 164 times, 1 visits today)